After an surgery, your body starts to recover. This includes the incision made in your skin – where the formation of a visible scar is almost certain, if you do little or nothing to prevent it.
It is extremely important to take steps to prevent scarring immediately after the operation.
A good scar cream makes a world of difference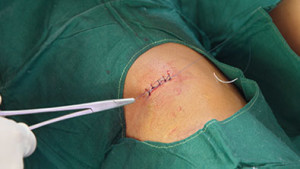 Start using a good scar cream directly after the surgery wound has healed. This will make the scar much less visible.
"I've suffered from chronic inflammation on my face, for years. My skin healed every time, although slowly, but the inflammation kept on recurring, becoming more frequent and more serious. Eventually an autoimmune disorder was diagnosed. In 3 years I had a total of 22 operations. And every surgery results in a scar.
I tried many scar creams over the years. My response to ALHYDRAN has been extremely good. I can apply ALHYDRAN to my skin immediately after the wound has closed. It has a very soothing effect on my skin and my scars have definitely become less visible." – Renee, Hoofddorp, the Netherlands
"I must first of all thank you for the sample. After my umpteenth cleft lip operation, I tried ALHYDRAN. The scar now feels soft and flexible and doesn't look so red." – Wanda, Amsterdam, the Netherlands 
More experiences with ALHYDRAN scar cream…
Post-operative scar already developed?
Was your operation some time ago, and has an unsightly, clearly visible scar already developed? Do you also suffer from a painful and/or red, inflamed scar, with (excessive) itching? In such cases a scar cream can still help to fade your scar – and will give you noticeable relief from pain and itching. "About one and a half years ago I had a serious car crash, after which I underwent several operations.  I also had skin transplants. A friend recommended ALHYDRAN. Now, after using it for approximately three weeks, I can see improvement in certain areas. The scars are no longer such a fiery red colour. I've also noticed an improvement in colour in the places where I had skin transplants." – Henk, Hengelo, the Netherlands
"I had an operation in December 2012, to replace my knee joint. The operation was successful and I'm satisfied with the result – my knee pain is gone. Unfortunately, the operation left a large scar on my knee. The scar is about 20 cm long. In the beginning it wasn't a problem, but after about four weeks the scar remained red and started to itch and expand. The skin around the scar was also sensitive.
I decided to try ALHYDRAN scar cream. I did so because I was advised to try it. I had also read a brochure with very positive information on ALHYDRAN. Immediately after using the scar cream I noticed a difference. The itching reduced immediately. After applying ALHYDRAN for two months the itching disappeared and the scar was less visible." – Anonymous user, Apeldoorn, the Netherlands