ALHYDRAN is a medical scar cream.
ALHYDRAN is widely used in burns centres and hospitals.

Medical after-care for skin problems caused by:
The special ALHYDRAN effect
Meet the world's most advanced solution

| | |
| --- | --- |
| Less itching and redness | Active scar van management |
| Comfortable under de clothing | Makes the skin more supple |
The proven composition of ALHYDRAN helps combat pain, itching, redness, tightness and unsightly scars.
What makes ALHYDRAN medical gel cream stand out from many other skin care products is its highly effective, optimised combination of fresh Aloe Vera and top quality skin oils.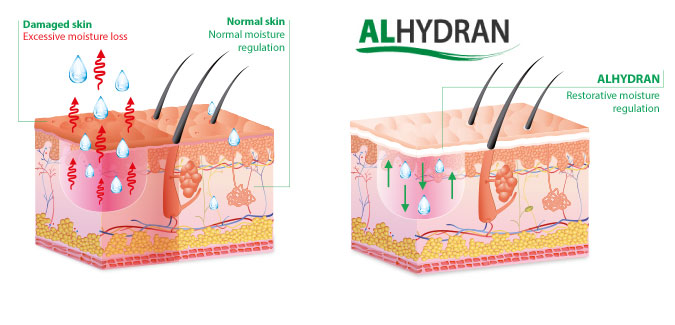 Without ALHYDRAN:
Itching

Redness

Severe skin reaction
With ALHYDRAN:
Less itching

Skin is calmer

Less redness

Protects the skin
 How it works
Aloe Vera is used in many skin care products. But most products only contain a very small amount of Aloe or no fresh Aloe Vera gel at all. Some manufacturers claim that their products contain 99.9% or even 100% Aloe Vera. That's just not possible! To keep a product stable you need to add preservatives and stabilisers, so it is absolutely impossible to make a product containing 99.9% or 100% Aloe Vera. These products are often made with Aloe Vera powder rather than fresh gel.
Read more
 
The three most important factors for the best Aloe Vera gel
Use all the gel. The harvested gel should be used in its entirety and not freeze-dried (which often happens on large plantations). Otherwise it will lose some of its effectiveness.
Climate. It is very important that the plant is grown in a hot, dry climate. And certainly not on a plantation where the plants are looked after on an industrial scale (given extra water, for example). The tougher the climate for the plant, the higher the concentration of the active ingredient.
Use fresh. To get the best possible effect for vulnerable skin, the gel should be used as soon as possible after harvesting.
Experiences with Alhydran

Effective and proven
Safe and easy to use
Only the best ingredients
For professionals, doctors and paramedics
There is growing awareness of the importance of good medical after-care of the skin immediately after closure of the wound. ALHYDRAN has been developed specifically for the delicate skin that forms when the wound closes.
The effects of ALHYDRAN have been scientifically proven in various clinical studies and case studies. You can find documentation here.
Request documentation, materials and patient information here
Contact us
Do you have any questions about ALHYDRAN? We'd love to hear from you.
Contact details
Espère Healthcare Ltd.
Address:
Shefford House, 15 High Street,
Shefford, SG17 5DD
Phone:+44 (0)1462346100
Email:info@esperehealth.co.uk
Phone Hours:
Mon – Fri / 9:00AM – 5:00PM
24 Hour Answerphone Available