ALHYDRAN
Treatment of disrupted skin barrier
Medical cream specially developed for after care of the skin, immediately after wound closure. ALHYDRAN is used for treatment of disrupted skin barrier.
Protection and softening of the skin
Less itching, pain and redness
Actively reduces (new and existing) scars
Content: 30 ml (1 fl. oz.) / 100 ml (3.4 fl. oz.) / 250 ml (8.5 fl. oz.)
Buy From Espere Healthcare
Skin care for a damaged skin due to
Scars

Burn wounds

Laser treatment

Radiotherapy

Dry skin

Eczema

Actinic keratosis
Medical Hydrating Cream
ALHYDRAN ensures optimal, long-lasting hydration and prevents moisture loss.
Ideal for treatment of disrupted skin barrier. Suitable for (after)care of burn wounds, treatment and prevention of scars, treatment of (extremely) dry skin and reduction of redness and itching.
ALHYDRAN is hypoallergenic and contains no parabens or fragrances. Suitable for all skin types. Not tested on animals.
Available sizes:
30 ml (1 fl. oz.)
100 ml (3.4 fl. oz.)
250 ml (8.5 fl. oz.)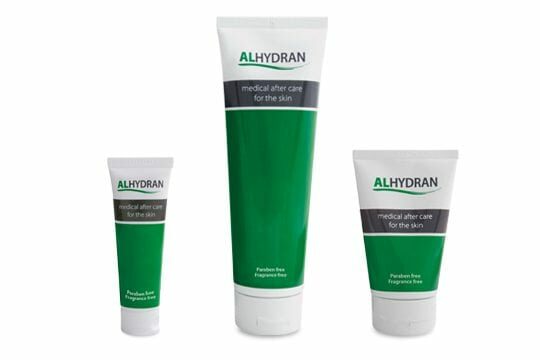 Reviews
Clients about ALHYDRAN
Dr. R.A. Christiano

We advise our clients to treat the scar daily with ALHYDRAN, after removing the stitches. Massage with ALHYDRAN ensures that the skin stays supple.

Dr. Edward Berends

I have been using ALHYDRAN for the aftercare of intensive laser treatments for two years. The rapid wound healing is striking. People tolerate the product well. ALHYDRAN actually never causes post-inflammatory hyperpigmentation and is well-tolerated by the skin. Moreover, old burn scars also improve with use of ALHYDRAN, especially the variant that contains SPF.

Dr. Sylvie van Assema-de Jong & Dr. Annika Roukema-de Jong

We use ALHYDRAN in our clinic after various treatments: after eyelid surgery, soft surgery and Thermavein (couperose) treatments, amongst others. ALHYDRAN contributes to effective skin repair and has a positive effect on redness, swelling, tightness. This aids healing and thus optimises the effect of the treatment. Patients generally find ALHYDRAN pleasant to use. In addition, ALHYDRAN has a calming effect, causes few reactions and offers value for money.

Inge van der Aa

As a skin therapist, I am very pleased with ALHYDRAN. We always use it at our practice for surgical scars, burns, radiotherapy, as well as for sensitive and irritated skin. We often use ALHYDRAN for a quicker recovery after a deep peel or laser treatment. As a mother, I always keep a large tube of ALHYDRAN in the fridge. Not because it needs to be stored in the fridge, but because it intensifies relief from itching in the case of insect bites, (very recent) processionary moth irritations, burns (Hello, oven and iron) and I even used it on my son when he had chicken pox. His sores healed in 2 days. An exceptional product, which I think is indispensable in the home.

Duygu Demir

After I started recommending ALHYDRAN to patients, I noticed a quicker recovery period for damaged skin and a better result in terms of healing. In the case of electrical epilation in particular, ALHYDRAN greatly improves the recovery of damaged skin.

Bauwien van der Zwaag

As a skin therapist, I regularly recommend ALHYDRAN. It produces good results in the case of scars and damage caused by radiotherapy and is also a great product for dry skin! The SPF variant is an ideal product for skin that is exposed to the sun. In short, a good choice for various skin problems.

Michelle Jansen & Anouk te Molder-Bliekendaal

We are very pleased with ALHYDRAN. We often use it in our clinic. We observe a softening and regenerative effect with use of ALHYDRAN, particularly in the case of sinus pilonidalis and scars caused by self-harming. Especially newly formed scars that are red and itchy. It also cools and relieves skin reactions after laser hair removal.

Debby Lorkeers

I recommend ALHYDRAN to everyone! Patients who use ALHYDRAN to prevent radiotherapy damage experience hardly any problems. Patients with hypostatic eczema and burns /scars were very impressed with ALHYDRAN. Skin became suppler, more even, and pain and itching were largely relieved. In short, a super product.

Rina Rijkenberg & Jeune de Graaf

We have been recommending ALHYDRAN at our practice for over 10 years. The best thing about ALHYDRAN is that it has a wide field of application. As aftercare for burns, skincare, and after laser treatment. ALHYDRAN also produces good results in people with acne or very dry and sensitive skin. Optimal hydration and soothing ensures healthy and beautifully healed skin and ALHYDRAN relieves itching. It is also popular as an after sun cream for (accidentally) sunburnt skin in summer.

Radiotherapy nurses

Our patients often need something for burning and itching. They find ALHYDRAN very effective.

Radiotherapy Department Assistants

Our patients often tell us that ALHYDRAN helps for dry skin after radiotherapy. They also benefit from ALHYDRAN to treat itching and burning.

Radiotherapy Department Assistants

ALHYDRAN helps our patients heal visibly and greatly reduces itching and burning. Our colleagues also use it themselves for dry skin and as a day cream.

Pharmacist's assistant

We advise ALHYDRAN for aftercare in the treatment of scars and burns. The ALHYDRAN variant with UV protection is good for scars that need to be protected from the sun. We also recommend ALHYDRAN for abrasions, naturally not to be applied to open wounds. Patients are highly satisfied. We do not hesitate to recommend it!

Mylene Disselkoen

We are highly enthusiastic about ALHYDRAN scar cream. It is very effective, it helps greatly for itching, redness, damaged skin and improving scars. Price-wise, it is affordable to everyone. It is wonderful that there is also a variant with SPF 30. Damaged skin needs to be well protected from the sun!

Dr. Menno Gaastra

For people with dry skin caused by eczema, ALHYDRAN can be a good option for a neutral maintenance treatment in addition to hormone cream.

Dr. M.D. Njoo

I recommend ALHYDRAN for the treatment of Atopic (Constitutional) eczema because of its excellent nourishing and hydrating properties. With Aloe Vera rather than water as the primary ingredient, ALHYDRAN provides optimal skin hydration.

Duco van den Broecke

We advise using ALHYDRAN after eyelid surgery, because ALHYDRAN keeps skin supple and helps it heal after a surgical procedure.

Dr Ali Pirayesh

ALHYDRAN, the first no-nonsense, scientifically proven scar cream.

ass. prof. Albin Stritar, MD Phd

I have been advising ALHYDRAN for many years in our burn centre. I am therefore very happy that this cream is officially available in Slovenia. Without any conflict of interest I can say that ALHYDRAN is very useful, salvaging and successful for burn treatment (aftercare burns and scars).

Woman (58)

During my breast conserving therapy I used ALHYDRAN. After 3 weeks of radiotherapy – having used Alhydran three times a day – there is absolutely no skin damage at all. A few times just a little redness but as soon as I put on Alhydran it disappears. I have been told that you might see skin reaction up to two weeks after the radiotherapy stops, so I am still using Alhydran with very good result. A positive side effect has been, that the scar from the lumpectomy (breast conserving therapy) has become almost "invisible" during the weeks using Alhydran.

Ms Geijn

A while ago I was given ALHYDRAN for my very dry, painful legs. It's also very effective against itching. ALHYDRAN is really easy to apply and is one of the few products that can be used under support stockings! You used to be able to claim for it on health insurance but sadly you can't any more. I would almost wish all my problems on the health insurance companies, so that they'd know and feel what my many patients and I go through every day! I really hope ALHYDRAN will be available on basic or supplementary health insurance again.

Anonimous (70)

I started using ALHYDRAN after my dermatologist removed my age spots with an aggressive skin cream (actinic keratosis). My skin felt hot, red and painful. ALHYDRAN had a soothing effect and within just a few days my face was less red and painful. It applies well and it's easy to use.

Anonimous (42)

ALHYDRAN was better than another cream (Cetomacrogol) I had been using before. It stopped the burning sensation in the irradiated area. The irradiated skin also itched less. ALHYDRAN is easy to apply and has a neutral smell.

Anonimous

Taking heavy medication for years to control immune disorders and being exposed to the sun a lot as a child have done my skin no good at all. As a result, I have a lot of sunspots (actinic keratoses) and dry, scaly, itchy skin all over my body. ALHYDRAN really helps. ALHYDRAN is so easy to apply, my skin absorbs it very quickly and effectively, and it controls the itching and scaliness and makes my sunspots softer. Even on my face! ALHYDRAN also did a great job after my recent photodynamic therapy treatment. The skin on my chest overreacted to the treatment and was severely burned. After a short course of antibiotic cream at my dermatologist's recommendation, ALHYDRAN very quickly soothed and dried my skin and visibly improved it. I have tried many other products in the past, but none came anywhere close to ALHYDRAN.

Renee

I have had chronic inflammations on my face for years. Every time my skin cleared up slowly but the inflammations kept coming back more often and kept getting worse. Ultimately I was diagnosed with an autoimmune disease. That was the reason why operations were often unsuccessful and the wounds kept coming back. I had 22 operations altogether over a period of three years. And you're always left with a scar after every operation. I've tried a lot of different scar creams over the years, and I've discovered that I react badly to some of them. When I went to the Dutch Burns Day in Amersfoort I was given a couple of sample tubes of ALHYDRAN. This is the cream I respond really well to. I can use ALHYDRAN even on wounds that have just closed. It really calms the skin and the scars are definitely becoming less visible. Now I'm taking strong drugs to suppress my autoimmune disease. Ultimately I hope that my skin will settle down, especially now that I'm using ALHYDRAN.

Anonimous (68)

ALHYDRAN reduces pain and redness. The irradiated skin improved visibly faster. My skin therapist was able to start sooner with her the treatment. ALHYDRAN is pleasant to use and is easy to apply."

Anonimous

Eleven years ago I suffered 40% burns from my waist down. The skin on my legs was particularly badly damaged and there is a lot of scarring there. Over the years I have had a number of restorative operations and skin transplants. I have tried out lots of creams to reduce the itching, redness and tightness. Not many were very much help, to be honest. At one point a fellow sufferer told me that there was something on the market that could really help and you could get it on prescription, which was great as you needed a lot for daily use. And it was true: it made my skin more supple, and it even reduced the tightness in the scar tissue that made it harder to restore mobility in my limbs and the itching I could even feel when I was asleep. Sadly, ALHYDRAN stopped being available on my health insurance and I couldn't afford to pay for it myself. Anyway, I went on to try other products, but all that happened was that the delicate skin opened again and the itching returned. This afternoon I came across the ALHYDRAN information stand at the Dutch Burns Day and naturally I stopped by to see whether they were giving away samples. I got a sample, along with some information about what I actually already knew. But now I have rediscovered that you only need to use a tiny bit of ALHYDRAN to make a big difference and make the scar tissue more supple. So I'm not going to deny myself or my skin any longer, and I'm going to buy a big tube of ALHYDRAN, because I know that ALHYDRAN really helps and makes my skin more supple.

Anonimous

Our four-year-old daughter was scalded by hot water. She still had a lot of unpleasant symptoms 1½ years later. Now her skin is much less itchy and red. Her scar has improved visibly too!

Anonimous (52)

Immediately after I was burned, my doctor recommended applying ALHYDRAN scar cream (only to the skin that had already closed). I had no more pain symptoms and ALHYDRAN quickly got rid of the heat in my burn. It also greatly reduced the itching. Because it works so fast, I was able to get back to work quickly.

Mrs. Baltink

In April and October 2012 I had knee replacements on both sides because both knees were worn. After the operations my son gave me ALHYDRAN to apply to the scars. They were so thick, stiff and knobbly, and it was really painful to do my knee exercises to restore the bending movement. Once I started applying ALHYDRAN, as much as four times a day to begin with, my scars visibly improved. My physio and orthopaedic surgeon were surprised how effective it was! I just wanted to tell you this so that more people who have had joint operations can benefit from it.

Jacky

I have suffered from considerable skin damage, due to shingles. I got the shingles in September 2016 and my skin is still badly damaged, from the bottom of my face to the top of my arm. ALHYDRAN takes care of the affected skin, absorbs well and reduces itching. I do not yet notice a difference in the thickness of the scars. I find the ALHYDRAN cream very pleasant to use!

Woman (26)

Great product. I've been using it for a long time. I have been under treatment for a while, laser therapy for my birhtmark. It works perfectly. Keeps skin supple and relieves itching.

Woman (47)

I used ALHYDRAN after a laser facial treatment. It is a great product. My skin is prone to acne, but ALHYDRAN is well tolerated.

Lia

I have used the cream for my face, after laser treatment. The result is neat, the skin therapist is happy.

Karin

During summer I have flaky hands. A kind of mould. It was difficult to solve this, nothing helped. I started applying ALHYDRAN cream once a day and in a very short time I got rid of the problem. I have recommended it to several people with this skin problem and they too were very enthusiastic.

Melissa

It is very effective! I have much less problems with itching, redness and dry skin. I suffer from Psoriaris, eczema and dry skin. I tried several products on doctor's advice, but nothing helps as well as ALHYDRAN. It's great!

Mascha

Lubricates wonderfully, it immediately relieves the tight feeling. I use ALHYDRAN for my scars and dry skin.

Fia

ALHYDRAN is ideal for dry skin with uneven areas.

Chris

ALHYDRAN is a great product. I'm using it after an ugly burn on my hand. The visual result is fantastic! Never thought it would be that good. Thanks.

Sylvia

I have used ALHYDRAN cream for a burn on my hand. The burn has healed nicely and is nearly no longer visible.

Robby

Recently I had a serious accident, now I have 1st and 2nd degree burns on my chest and stomach. After applying ALHYDRAN I felt a strong relief of the itching, pain and dryness of my bandaged skin. Within a few days my skin became smoother and the scars faded.

Aline

My skin was burned after radiation. ALHYDRAN is a great product, the skin repairs well and it prevents itching.

Katherine

During and after a radiotherapy process with 35x irradiation sessions and an operation, I have used both normal ALHYDRAN and the sun factor (SPF 30). It works great! The scar is hardly visible anymore. It soothes the skin and makes the radiation area soft and supple. I don't want anything else!

Caroline

It really is an excellent cream after irradiation.

Trudy

Excellent cream and efficient to use. Great for treatment at home after radiation. My skin is recovering quickly.

Julia

Pleasant cooling and easy-to-spread cream. I used it after radiation.

Dr Ali Pirayesh

ALHYDRAN, the first no-nonsense, scientifically proven scar cream.

Woman (58)

During my breast conserving therapy I used ALHYDRAN. After 3 weeks of radiotherapy – having used it three times a day – there is absolutely no skin damage at all. A few times just a little redness but as soon as I put on ALHYDRAN it disappears. I have been told that you might see skin reaction up to two weeks after the radiotherapy stops, so I am still using ALHYDRAN with very good result. A positive side effect has been, that the scar from the lumpectomy (breast conserving therapy) has become almost "invisible" during the weeks using ALHYDRAN.

Chrissy

25-08-2019

ALHYDRAN makes the scar more soft and less visible. The cream also smells good.
How to use
Apply a thin, even layer of cream
Use it 3 times a day (and when skin complaints increase)
ALHYDRAN may be used without limitation (for years, if required).
Ingredients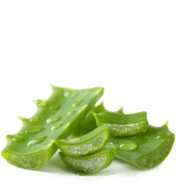 ALHYDRAN is a medical cream with a base of 100% fresh Aloe Vera Gel. Aloe Vera gives the cream strong moisturising properties and a mildness particularly suitable for damaged and vulnerable skin. The product is tolerated by a wide range of skin types.
The other ingredients of the ALHYDRAN product line contain a high level of high-end natural oils and antioxidants, which further contribute to the unique and long lasting moisturising characteristics of the product.
Vitamin E & Vitamin C
Antioxidants
Natural oils, like Jojoba oil
Enhances skin's regenerative properties
ALHYDRAN makes the skin supple and elastic, and is particularly suitable for skin types with reduced elasticity.
All ingredients
Aloe Barbadensis Leaf Juice (Aloe Vera gel from Aruba)
Water (Aqua/Eau)
Caprylic/Capric Triglyceride
Cetearyl Alcohol
Decyl Oleate
Cetearyl Isononanoate
Glyceryl stearate
PEG-20 Glyceryl Stearate
Ceteareth-20
Cetyl Palmitate
Sorbitan Stearate
Propylene Glycol
Tocopheryl Acetate (vitamine E acetaat)
Ascorbic Acid (vitamine C)
Simmondsia Chinensis zaadolie (Jojoba olie)
Phenoxyethanol
Caprylyl Glycol
Chlorphenesin
Disodium EDTA
Hormone Free

Long-Lasting Hydration

Perfume & Paraben Free

Scientifically Proven

For all ages

Hypoallergenic
Products related to ALHYDRAN