ALHYDRAN Eczema Care
Eczema Relief + Soothes Stressed Skin
A medical cream that reduces the discomfort of eczema and relieves itching, redness and a burning sensation. The cream provides optimal and long-lasting hydration, softens, calms and soothes the skin immediately. Suitable for all skin types and skin conditions and for the relief and prevention of eczema.
Reduces the discomforts of eczema
Softens, hydrates and soothes the skin
Relieves itching and burning feeling
Content: 59 ml (2 fl. oz.)
Clinically Proven

Hypoallergenic

Hormone + Perfume Free

Long-lasting hydration

For body and face
Eczema Relief + Soothes Stressed Skin
Indications / fields of application
Relief from eczema symptoms
Support in preventing eczema flare-ups
Support for skin that is sensitive or prone to redness
Preventative treatment for irritated and sensitive skin that is itchy and/or flaky
Supports the repair of skin in the case of a sun allergy
Special Care Products
Eczema Care is part of ALHYDRAN Special Care Products. These skincare products are developed specifically for certain skin problems. Other items within this new product line are: Barrier Repair Care, Cracked Dry Skin Care and Anti Itch Care.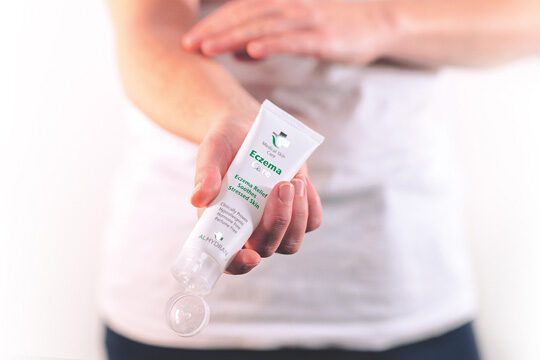 How to use ALHYDRAN Eczema Care
Apply a thin layer of cream to the affected skin, twice daily.
The cream can be used for long periods of time.
External use only.
Keep out of reach of children.
Do not use on open wounds.
Ingredients
ALHYDRAN Eczema Care, especially developed to reduce the symptoms of eczema, such as itching, redness and dryness and helps prevent eczema flare ups.
We used the powerful and scientifically proven formula of ALHYDRAN Medical Care for the Skin as the basis. We combined the unique characteristics of Aloe Vera with other high quality, active ingredients.
ALHYDRAN Eczema Care is enriched with Urea, Lactic Acid and Glycyrrhetinic Acid, amongst others. All ingredients contribute to calming and healing skin affected by eczema. Structural use of the cream helps extend eczema-free periods and shorten eczema flare ups.
Active ingredients
Aloe Vera
Intensive and long-lasting hydration
Urea
Hydrates and nourishes the skin
Lactic Acid
Protects the skin against harmful bacteria
Glycyrrhetinic Acid
Reduces skin sensitivity
All ingredients
in order of quantity
Aloe Barbadensis leaf juice (Aloe Vera gel from Aruba)
Aqua (water)
Caprylic (Capric Triglyceride)
Decyl Oleate
Cetyl Alcohol
Stearyl Alcohol
Urea
Glyceryl Stearate
Cetearyl Isononanoate
Sorbitan Stearate
Polysorbate 60
Lactic Acid
Ceteareth-20
Butylene Glycol
Propylene Glycol
Cetearyl Alcohol
Cetyl Palmitate
Ceteareth-12
Phenoxyethanol
Panthenol
Arginine
Caprylyl Glycol
Chlorphenesin
Sodium Hydroxide
Tocopheryl Acetate (vitamin E)
Glycyrrhetinic Acid
Simmondsia Chinensis Seed Oil (jojoba oil)
Ascorbic Acid (vitamin C)
Allantoin
Disodium EDTA