I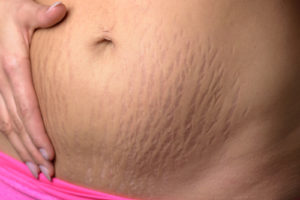 f you have come to this page you are probably in one of the following situations:
You are pregnant and want to reduce the risk of getting stretch marks
You were pregnant and have stretch marks and you want to make them less visible
Unfortunately we cannot help you as regards the second situation. Once you have stretch marks you will never get rid of them. There are sources that allege that reduction is possible. But these sources lack a scientific basis.
Are you pregnant? Do you want to reduce the chance of stretch marks? If so, please read on:
Reducing your risk of getting pregnancy stretch marks
You are pregnant and your skin is stretching rapidly. Perhaps so rapidly that the connective tissue under your skin has torn. This causes stretch marks.
Sometimes this cannot be prevented. Regardless of the action you take. However, you can drastically reduce this risk. The most common method is frequent and ongoing application of a cream. Particularly one containing Aloe Vera. Why Aloe Vera? Because stretch marks are a problem that occurs in the deeper skin layers. Creams which only hydrate the skin surface therefore achieve nothing. Aloe Vera (in its pure form) penetrates to the deepest skin layers and ensures that these remain as soft and elastic as possible.
We emphasise that no cream guarantees prevention of stretch marks. But you can make the risk as small as possible.
At ALHYDRAN we advise using ALHYDRAN cream. For good reasons.
Why ALHYDRAN?
ALHYDRAN is a scar cream – with proven effect: our cream prevents and reduces scars. In addition, ALHYDRAN relieves a range of complaints associated with scars – and with stretch marks: such as drying out, itching, pain and redness.
ALHYDRAN contains pure, unprocessed Aloe Vera. The most widely recommended ingredient when it comes to reducing stretch marks.
Aloe Vera is, indeed, the most important ingredient in our cream. You can see this on the label, on which the manufacturer must list the most important ingredient first. (Compare this to other creams claiming Aloe Vera content. They mostly contain only a small amount.)Thanks to its high, pure Aloe Vera content ALHYDRAN's effect penetrates deeply into your skin. It keeps your connective tissue soft and elastic. As a result, your chance of developing stretch marks is reduced.