A cream for treating pregnancy stretch marks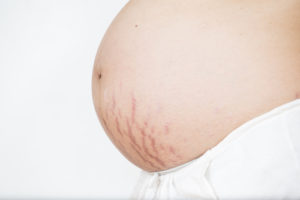 Pregnancy means you are at high risk of stretch marks on your stomach and back. And of course you want to do everything you can to prevent this. So you are looking for a good anti-stretch mark cream. And there are enough to choose from.
But which one really work?
A cream that reduces or even prevents stretch marks?
Easier said than done. Once you have stretch marks – which result from torn, connective tissue – they will unfortunately remain visible. Expensive laser treatment can reduce their visibility to an extent. Though the remedies remain limited in effect.
You can, however, take steps to prevent and/or combat stretch marks. And we certainly recommend that you do so during pregnancy. Once you have them, you simply cannot get rid of them.
Stretch marks: facing the facts
Let's be very honest: stretch marks cannot always be prevented. However, you can use an appropriate cream – which we absolutely recommend. This will at least help to limit stretch marks.
However, whether you do or do not get stretch marks depends on many factors. For instance, genetics.
ALHYDRAN anti-stretch mark cream
Our product is ALHYDRAN scar cream. It contains pure aloe vera. This, in combination with the other ingredients of the cream, keeps your skin soft and elastic during pregnancy.
Does ALHYDRAN prevent stretch marks? Unfortunately we cannot make this promise.
Is ALHYDRAN the 'best' anti-stretch mark cream? This is possibly true. Its effect on scars is proven. And stretch marks are a type of scar.
Those who have used ALHYDRAN to combat stretch marks are enthusiastic about the results:
Yvette: "I used ALHYDRAN on my belly, to prevent stretch marks during pregnancy. After 4 months of pregnancy I started applying ALHYDRAN to my belly every evening. I have always had a very narrow waist and flat stomach. The result, after 9 months of pregnancy, is that my belly grew without itching or stretch marks! I therefore strongly recommend using ALHYDRAN during pregnancy."
Start using ALHYDRAN today. The sooner you start, the more likely you are to prevent stretch marks!